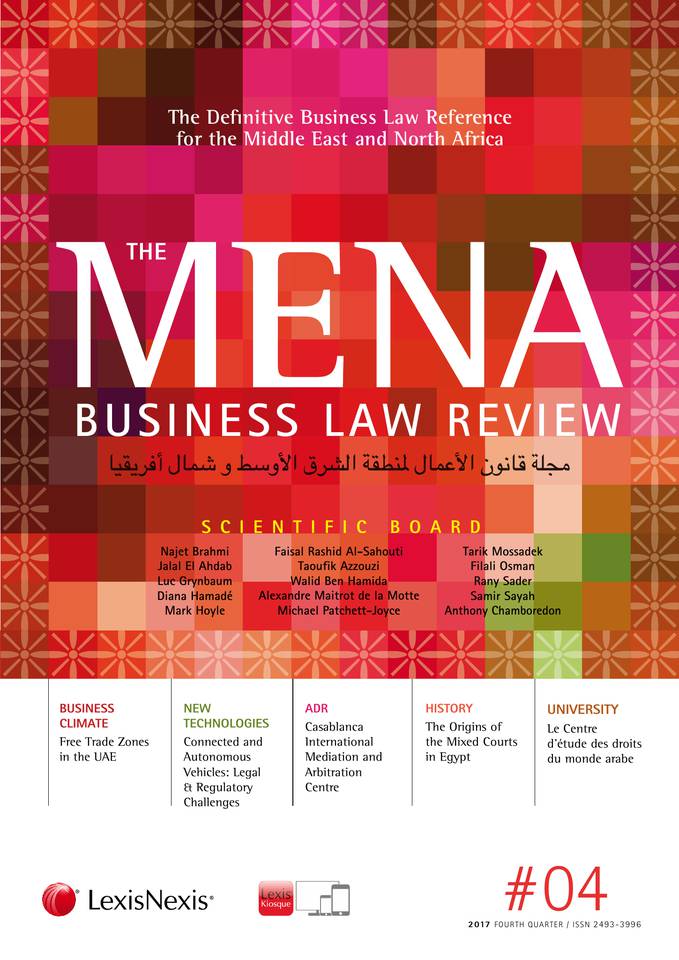 MENA Business Law
N°4 - dimanche 19 novembre 2017
Extrait
EDITORIAL
THE MENA REGION: BETWEEN MODERNITY AND RESPECT FOR TRADITION
Dear Readers, Chers lecteurs, La remarquable croissance économique et démographique de la région exerce une pression constante sur les législateurs et régulateurs The principal characteristic of the...
En lire plus
N°4 - 19 novembre 2017
EDITORIAL
THE MENA REGION: BETWEEN MODERNITY AND RESPECT FOR TRADITION
Dear Readers, Chers lecteurs, La remarquable croissance économique et démographique de la région exerce une pression constante sur les législateurs et régulateurs The principal characteristic of the...
INTERVIEW
How Business Leaders Can Combat Modern-Day Slavery
Yasmin Waljee is International Pro Bono Director at the global law firm of Hogan Lovells. MENA Business Law Review caught up with Yasmin at this year's Qatar Law Forum (11 and 12 November, Doha),...
LEGAL ROUND UP
What Place for CIMAC in the World of Dispute Resolution in Africa?
The Casablanca International Mediation and Arbitration Centre (CIMAC) is the emerging arbitration centre in Morocco established in 2014 to administer domestic and international disputes. On the 3rd...
United Arab Emirates
Dr Mark HoylePartner, Gateley UK LLP (DMCC Branch), Editor-in-Chief, The Arab Law Quarterly, Visiting Professor, University of Leeds Gateley Plc Draft Executive Regulations to Federal Decree-Law on...
Saudi Arabia
Wejdan AlSagheerLawyer, Legal Consultant and Visiting Professor Saudi Arabia Ranks Second Globally in Business Climate Reforms The World Bank praised Saudi Arabia's progress in indices that measure...
FEATURES
U.S. Civil Courts as the New Front on the "War on Terror?"
Last year, the United States Congress passed the Justice Against Sponsors of Terrorism Act (JASTA), opening up the potential floodgates to a range of lawsuits against foreign entities and states...
Free Trade Zones in the UAE: Between Legal Traditions and Economic Globalisation
Geographical areas called free trade zones are a very powerful mechanism to attract foreign companies for the advantages they provide, in particular the absence of taxes. However, in the UAE, and many...
MAIN BIBLIOGRAPHY
BOOKS W. Guéraiche, Géopolitique de Dubaï et des Émirats arabes unis : Éd. Arbre Bleu, 2014. S. Ghaouti, Les Émirats Arabes Unis, vers une nouvelle expérience fédérative : Doctoral Thesis, Science...
Connected and Autonomous Vehicles: the Legal and Regulatory Challenges to Deployment
In recent years, we have seen a rise in the number of smart city and smart nation projects implemented or planned for the Middle East. Smart mobility and infrastructure initiatives are paving the way...
Le régime juridique régissant la succession des expatriés non-musulmans aux Emirats arabes unis
La question de l'héritage en cas de décès est l'appréhension ultime des citoyens de l'Union européenne résidant aux Emirats arabes unis (EAU), en particulier compte tenu de l'incertitude et de la...
Le fondement de la responsabilité du fait des choses en droit qatarien
La responsabilité du fait des choses porte l'attention sur le rôle causal de la chose pour faire peser la responsabilité sur le gardien de cette chose. En droit qatarien, le siège de la matière est...
HISTORY
The Origins of the Mixed Courts of Egypt
This article deals with the period before the Mixed Courts began. It is concerned with showing how the various aspects of Turkish sovereignty and foreign treaties affected Egypt's legal system, and...
Le service public et ses valeurs, à l'aune de l'expérience monégasque1
Monarchie constitutionnelle, la Principauté de Monaco a été historiquement dotée de deux constitutions successives, l'une en 1911 et l'autre en 1962 laquelle est toujours en vigueur et n'a connu...
UNIVERSITY
Le Centre d'étude des droits du monde arabe
Article réalisé grâce à l'aimable contribution de Marie-Claude Najm professeur de droit et directrice du CEDROMA Né de la volonté d'insuffler une dynamique nouvelle à la recherche sur les droits du...
LEGAL EVENTS
Legal Conferences
OMAN 24-28 December 2017 Muscat Oman Legal Apprentice Program LexisNexis and Law & Life hold the 2nd edition of the legal apprentice program in the Middle East: a unique program for legal...
LexisNexis on the Ground
PARIS 18-21 September 2017 GCC Women Legal Mission in Paris LexisNexis, with the support of strategic partners Burhan Al Marifa, in Saudi Arabia, and Al Yaqout Legal Group, in Kuwait, organised the...
Merci
Vous venez de consommer 1 crédit. Il vous reste crédit(s).